Back to News
Dr. Overmiller Accepts Walk-Ins and Same Day Appointments
Posted 02/08/22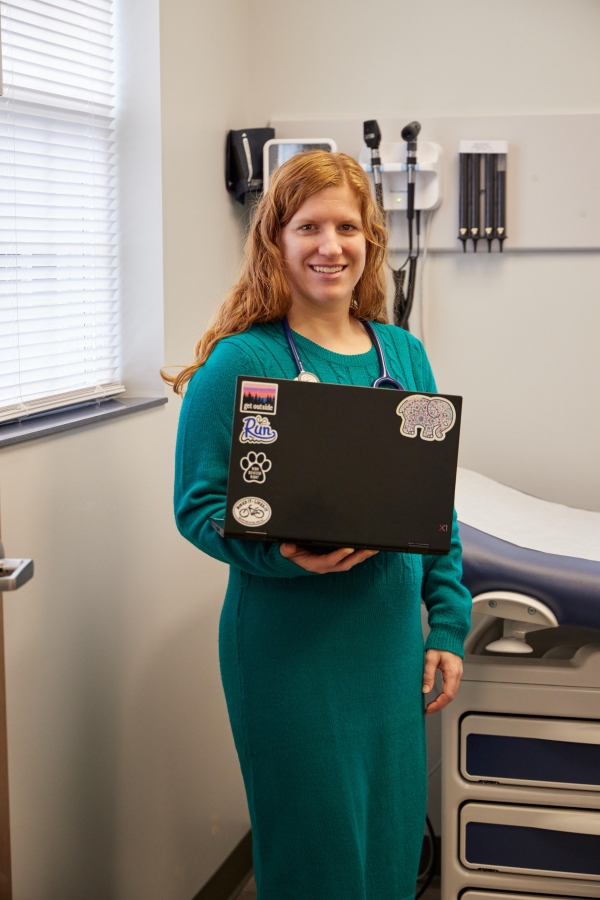 It is impossible to predict when you might get sick. This is why Dr. Holly Overmiller and the healthcare providers at Ohio Hills Health Centers (OHHC) are willing to accept walk-in patients and same day appointments. Dr. Overmiller is the physician at OHHC-Caldwell located within the Noble County Health Department. This office is open in the afternoons on Mondays, Wednesdays, and Fridays. Dr. Overmiller also sees patients at OHHC-Woodsfield 1 ½ days a week.
Patients do not need to be established patients of OHHC to utilize the Walk-In or Same Day Appointment options. Patients may go to the OHHC-Caldwell office and then will be seen as quickly as possible, or they may call 740-239-6447 and they will be given an appointment for later that day. Regularly scheduled patients are given priority, but all efforts will be made to accommodate walk-in patients in a timely manner.
"Dr. Holly Overmiller has been a tremendous addition to OHHC. She is a caring physician and fits right into our rural communities," said Jeff Britton, CEO, OHHC. "She has embraced Caldwell and is an active member of the community."
Dr. Overmiller appreciates the variety and continuity of family medicine. She offers a full-service family medical practice, seeing patients of all ages. She does many small office procedures including OMT, trigger point injections, joint injections, cyst removal and skin lesion removal. OMT is osteopathic manipulative treatment – an office procedure that manipulates the bones, muscles, and nervous system. It can be used to increase range of motion, decrease pain, and treat various chronic medical conditions.
"I have lived in Caldwell for two years now and I certainly feel this is my home," said Dr. Overmiller. "Unfortunately, the COVID-19 pandemic has made it difficult for me to be as involved in the community as I would like, but I am hoping that things will continue to improve in 2022 and I will get to meet more area residents."
Because healthcare can be expensive, OHHC offers a Patient Discount Program to make healthcare accessible and affordable for area residents. The program provides eligible patients a discount on services based on household size and income. Individuals and families may be eligible for the discount program if they are uninsured, insured with high deductibles, or have a lot of out-of-pocket medical expenses. The Patient Discount Program can also assist with prescriptions if patients utilize one of the contracted pharmacies. The Patient Discount Program Income Chart along with the Ohio Hills Patient Discount Program Application is available at the OHHC web page under the forms tab. For more information call Brandy Stephens, Patient Accounts Counselor, OHHC at 740-425-5087.
The mission of a Community Health Center is to provide quality healthcare in underserved regions and to treat all patients regardless of ability to pay. OHHC accepts most insurances, Medicare, Medicaid, and all patients are welcome regardless of their insurance status or ability to pay. OHHC also offers many free and low-cost health screenings which are available to all community members.
Dr. Overmiller is currently accepting new patients. OHHC provides medical, dental, and behavioral health services. For an appointment or additional information please call 740-239-6447.